| | |
| --- | --- |
| | This page is for set reviews. Here you can place down your opinion about a Bionicle set. |
Kirop Reviews
Review Information
Name
Kirop
Set Number
8949
Number of Reviews
3
Colors
black, grey
Element
shadow
Tools
shadow-claws
Mask
Unknown
Availability
No longer in stores
Review 1
This Review is bought to you from Kingdonfin
Kirop is the former leader of the Av-Matoran, he became a shadow Matoran after he got caught outside of the Av-Matorans home. He was turned back into a Av-Matoran by a kalaak at the same time as Takanuva. He went back to Metru Nui with the Toa Nuva.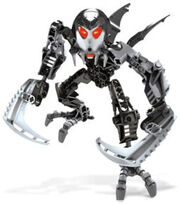 Armor
Armor, What Armor?
Mask
This mask it so cool, it really suites him. I like how it has sort of teeth.
Pros
New Mask
Cool Feet
New Face
Cons
UnBendable limbs
UNcool Weapons
Summery
Kirop is a 6/10 Bionicle. He has 3 good features but 2 Major Bad features. I like him though. He is Worth the Money.
Review 2
By -Matoro1 I HAVE NO PULSE!!! Wait... thats my foot!!!
Pros
Mask: Fangs! Mix of black & silver, eyeholes are big, smooth at back, implies he is sleek and cunning.
Effective design
He has the more powerful/hunchback looking torso
Cons
Limbs don't bend
Too much grey, needs more black to symbolize the evil in him
Eyes are NOT that red in real life, the box image is computer editted!
Non-recolored Twin-cutters, if lego did it for the Skrall then why didn't they do it for Kirop?
Overall
Kirop is an effective model but he doesn't seem to be evil enough, the mask and wings are really the only evil thing about him. 7/10 at best I would say!
Review 3
By:BRW Admin (Can I help you?)(Need more help?)(Talk!)
Pros
1.Cool Mask
2.Nice color sceme
3.New head
Cons
1.Breaks way too easily!
2.Horrible build!
3.Price
Conclusion
A horrible 3/10.