Plant Life

Matoran Prefix
Unknown
Colors
Green and Blue
Plant Life, also known as Jungle or The Green, was an Elemental Power that was used in the Matoran Universe and on Spherus Magna.
Example Usages
Creating plants.
Controlling plants.
Absorbing plants.
Unleashing a Nova Blast of Plant life. - Toa exlusive ability
Known Users
Matoran Universe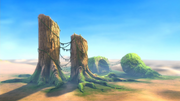 Trivia
All Matoran, Toa, and Turaga of Plant life would be Male.
"The Green" is another name for the element of Plant life but it is more commonly used to describe Toa of the Element.