| | |
| --- | --- |
| | This page is for set reviews. Here you can place down your opinion about a Bionicle set. |
Rate this set from 1 to 5.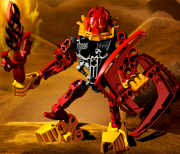 Review 1
Review by
BobTheDoctor27 SAVE THE BANANA! Its a good source of Potassium!
Raanu is the leader of the fire tribe and the elder of the City of Vulcanus.
Pros
New helmet, looks good, quite cool and has a grim-determined look on it
Recoloured Twin cutters!: looks good and make an effective shield
Hands: Hands have thumb in the middle so there is no left-hand right-hand confussion
Cons
Colour scheme: Red and orange is Ok but dark red, grey, yellow, orange, and light red...?
Twin cutters: sort of jut out a bit and get in the way sometimes.
Summary
Overall, Raanu seems too much like a normal Agori. There is nothing to represent his state of office. Of all things, he looks old and tired!
6/10
Review 2
By:Andrew1219
Pros
New Hands
Awsome Shield
Vakama Flame SWord
NEW head
New mask
Cons
Av-toran Build
90 degree angled limbs
Conclusion
Get him! He is 10/10!
Review 3
By

Jollun

Good
New arms
Cool helmet!
Hands!
Bad
Shield! It's just rubbish!
Grey chest!
Sum up
Raanu is OK but not really anything special. 7/10
Review 4
Pros
Hands
Helmet
Shield
Sword
Cons
Sum
8/10 Buy him!
Review 5
Pros
By :Ids5621
Awsome helmet; really designed to fit head
Great flame motif; helmet really matches the hordika flame weapons
Twin cutters re-colour , already exist in this colour in exo-force but new to bionicle
Re-coloured toa feet and new hands
Cons
Unfitting grey torso, to match Malum
Ape-ish propotions (Arms longer than legs)
No new weapons, or real recolours
Summary
3.5/5
Good set, for extra tools and awsome helmet, but not very originl
Review 6
By
MarvinTheMartian I'll blow up the Earth! It obstructs my view of Venus!
Pros
Nice recolors, most of all Toa Mata feet and Matoro's Twin Cutters.
Really cool, wise-looking helmet.
Vakama's Blazer Claw is old, still cool!
Shield pieces can attach to his elbows, giving him a sort of "arm blades"
Cons
Way TOO basic design.
Gorilla-like appearance (even if it sort of fits him, because he's supposed to be old).
No staff. I mean, he's a village elder! (This problem can be fixed by attaching a 8-lenght axle to his sword)
Helmet hinders head movement.
Thin torso.
High price.
Overall
Raanu, especially for his price, is not a must-have, but it could be still a good set for beginners or MOCers, for his amount of recolored and useful parts. 7/10
Review 7
By: -WaterLord 20:38, January 4, 2011 (UTC)
Pros
Amazing helmet that looks like flammes
Good weapon that is in fact Vakama's from 2005
Overall good color scheme
Cons
Shield is rather dull in color and appearance
Gray torso looks rather weird
Overall
A great set and the best of the 2009 Agori. 9/10