| | |
| --- | --- |
| | This page is for set reviews. Here you can place down your opinion about a Bionicle set. |
You may be looking for the Skrall Page.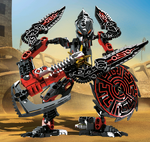 Review 1
By:Andrew1219
Pros
Cons
Health Moniter Thingy Gets annoying.
Review 2
By -Matoro1 I HAVE NO PULSE!!! Wait... thats my foot!!!
Pros
New head: Small face, long point sticking out through to the back, face resembles a rock, quite effective consdering their tribe!
Recolored Twin Cutter: Looks effective, dark, cool, why didn't lego do that for Kirop I wonder!
Knee pads: Very sturdy, make his legs appear strong and bulky (in a good way!)
Cons
Toa Metru-legs: Make them appear shabby, weak. Vakhi legs would have been better.
Possitioning of Thornax: They must bend their arms in ways that Humans cannot to shoot an enemy in front of them!
Shoulder pads: Stick out WAYYY too much and get in the way of each other and the point at the back of their heads.
Overview
I would give the Skrall model a 7/10 due to the problems caused by the shoulder pads and the pointy head.
Review 3
This review is bought to you from User:Rock Steed
Skrall is my favorite Glatorian.
Pros
Thornax Launcher on the same arm as his sword so he can stab shoot.
Cool Face
Moving Shield
Nice Color Scheme
New Weapon
Cons
Shoulder can get in the way
Summery
9/10 Bionicle, I love him so go get Him, (Thats an Order)!
Review 4
By

Jollun

Good
Cool sword!
Sword mouted Thornax Launcher!
Hands!
Head is kinda cool I guess.
Lots of new parts
Bad
Shoulders They stick out WAY too far!
Chest just sticks out way too far too but actually looks good for some reason.
Sum up
8/10 The Skrall set actually seems OK I think.
Review 5
Bought to you by: KingDonfin I am the Site Leader, Need help, go to my Talk Page 19:31, 6 July 2009 (UTC)
Now, the Skrall are the Evil Bionicles of Winter 2009. Equipped with a Thornax Launcher and a Saw Shield, they are a force to be reckoned with.
Now from head to foot, Skrall has a good selection of red and black, with good armor. When I got to the head area I was Mortified! It looks bad. But a really cool Helmet. :)
Pros
Helmet
Weapons
Great Color Scheme
Awesome Armor
Cons
Price 25 (NZD) !
Strange part below the head.
Overall
I like Skrall, they have a mean look about them, perfect for the Bad Dudes of 09. He gets a 8/10
Review 6
By --Superbrutaka07
Pros
Shield
Colour scheme
Armour
His combined sword, launcher and kind of a claw
Cons
His back has a weird shape
Shoulder gets in the way
Overall
Good looking, good choice of weapons and a wonderful colour scheme. I'll give him a 8.5/10
Review 7
By SlizerLord
Pros: Building/MOCing
Three really neat blades.
Red Glatorian head.
Great shield.
Thornax Launcher.
Pros: Movie Making
Mainly, his large feet help make him more stable.
Has articulation.
Abilities in Thornax Game
Skrall is a bit large, and thus frequently gets hit.
His large feet make him more stable, but his weapons and armor need to be positioned correctly so that he does not tip over.
Because of his Thornax Launcher being mounted on his sword, it is incredibly hard to fire accuratly.
Cons:
Only one Thornax fruit.
Head cannot look up very high.
Conclusion:
Overall, I would recoment Skrall to a Bionicle collecter. You can collect several and have a large army ready to chalenge your Glatorian and Agori.
Score: 4/5
Review 8
By I know who I am! I'm a dude called Matoro58 (talk) 20:35, January 18, 2014 (UTC)
Pros
Shield spins around
Shield also has new design
Thornax Launcher is on sword
Neck doesn't look too long, unlike Strakk
Cons
Long head spike
Shoulders keep getting in the way
Metru legs
Thighs are too wide
Overall
I woouldn't say this is one of the best sets, but it's good for collecting and doing that arena game with. 7/10