| | |
| --- | --- |
| | This page is for set reviews. Here you can place down your opinion about a Bionicle set. |
Review 1
By
Matoro1 I HAVE NO PULSE!!! Wait... thats my foot!!!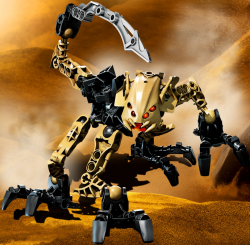 Zesk are a beastial species of mutant Agori. They stalk the sands of Bara Magna, but do they make good sets?
Pros
New colored limbs: look cooler, are eye catching and create good contrast with their black torsoes.
Helmet: looks goos, first ever four-eyed bionicle head! Cool teeth.
Cons
Feet: Over used, could be a bit better if the connector was lower down in the piece.
Tail: Attachment looks unprofessional, like it was planned in a hurry, it juts out, and it looks too bulky
I would Probably recomend this item and give it an 8 out of 10 as it still looks good and is probably one of the few sets that are NOT computer edited on the official product image.
Review 2
By:Andrew1219
Pros
Cool Helmet
Box art
Cons
Bulky attachment needed to connect the stinger to the body
Av-Toran body
90 degree angle limbs
Conclusion
I would say a 6/10. What are you waiting for? Go buy him now!!!!!!!!!!!!!!!!!!!!
Review 3
Pros
Cons
Sum
5/10. Depends if you're a collector or MOC maker.
Review 4
By User:ThatDevilGuy (What a LAME sig)
Pros
Nice building desgin...
Colouring.
Cons
Huge bulky bump on his back. (Well, not huge :P)
Money, money, money. It's a small set, but the price is high. :@
Summary
5/10. Depends, he looks cool, but not really worth a high price. I think that Zesk is a really creative design on Bionicle behalf.
Review 5
by Baterra1202
Pros
4 eyes
stinger
tan armor looks cool
claws, though overused, are a perfect touch
hump makes him look bestial
Cons
Summary
9/10. You were so close LEGO! I'd buy this if you're willing to blow $7-8.00 on a little set. Excellent for MOCs.
Review 6
By Collector1.
Pros
Cons
Nonething much to the set.
Could have been a better set with tan.
Over all
Review 7
Pros
New color
Cool Helmet
Stinger
Cons
Stinger too far out.
Too bulky.
Feet used way too much.
Rating
I'd give it a 3/5.
Review 8
Pros
Nice recolored limbs
Cool, new mask/helmet thingy
Scorpion apperance
Cons
Bulkyness restricts head movement
Vacant ball joint (that resricts head movement)
Overall Rating
The Zesk is a fun little set to have, but it ain't the best. 9/10 for a box set, Bagel out!